Wonderland – Berlin Kizomba festival
février 24 @ 8h00

-

février 27 @ 17h00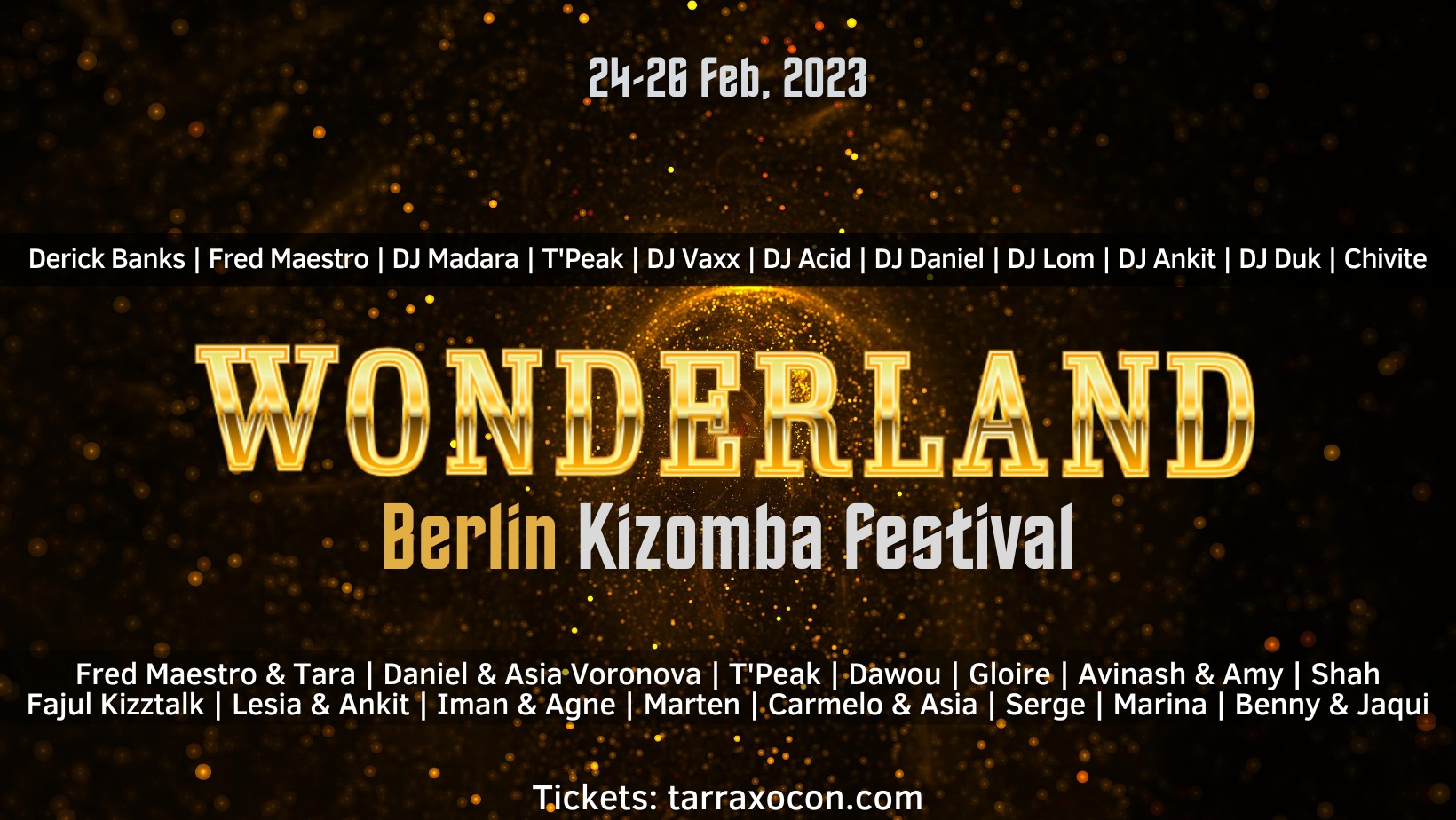 ѧѦ ѧ ︵͡︵ ̢ ̱ ̧̱ι̵̱̊ι̶̨̱ ̶̱ ︵ Ѧѧ ︵͡ ︵ ѧ Ѧ ̵̗̊o̵̖ ︵ ѦѦ ѧ ѧѦ ѧ ︵͡︵ ̢ ̱ ̧̱ι̵̱̊ι̶̨̱ ̶̱ ︵ Ѧѧ ︵͡ ︵ ѧ Ѧ
▃▅▇█▓▒░WONDERLAND░▒▓█▇▅▃
ѧѦ ѧ ︵͡︵ ̢ ̱ ̧̱ι̵̱̊ι̶̨̱ ̶̱ ︵ Ѧѧ ︵͡ ︵ ѧ Ѧ ̵̗̊o̵̖ ︵ ѦѦ ѧ ѧѦ ѧ ︵͡︵ ̢ ̱ ̧̱ι̵̱̊ι̶̨̱ ̶̱ ︵ Ѧѧ ︵͡ ︵
Super Early bird passes are out!!
Full Pass €50
Full Pass + Hotel €130
tarraxocon.com
●▬▬๑DJs๑▬▬●●▬▬๑DJs๑▬▬●
🪄Derick Banks
🪄Fred Maestro
🪄DJ Madara
🪄T'Peak DJ* (I am Your DJ contest Winner)
🪄DJ Vaxx
🪄DJ Acid
🪄DJ Daniel
🪄DJ Lom
🪄DJ Ankit
🪄DJ Duk
🪄DJ Chivite
●▬๑ARTISTS๑▬●●▬๑ARTISTS๑▬●
🪄Fred Maestro & Tara
🪄Daniel Schauenberg & Asia Voronova
🪄Dawou Makavely
🪄T'Peak
🪄Gloire Musenga
🪄Benny Odigan
🪄Avinash ModeZero & Amy River
🪄Shah Amin
🪄Fajul Kizztalk
🪄Lesia and Ankit
🪄Iman and Agne
🪄Marten Angner
🪄Carmelo and Asia
🪄Serge Saul
●▬▬▬๑LADY STYLING๑▬▬▬●
Asia Voronova
Marina
●▬▬๑Stay๑▬▬●●▬▬๑Stay๑▬▬●
Official Central Hotel Tegel is available:
tarraxocon.com
Central Hotel tegel:
1 stop away from the festival venue with Subway line "U6".
25 mins walk to the venue
airbnb.com
booking.com
Any accommodation near the Subway line "U6" is good. "U6" runs every 5 minutes during the day. Every 10 minutes at night. Every half an hour after midnight.
●▬๑TRAVEL๑▬▬●●▬▬๑TRAVEL▬●
Airport:
Berlin Brandenburg Airport (BER) – 45 mins
Train:
bahn.de
Berlin Friedrichstr – 25 minutes
Berlin Central Station – 35 minutes
Bus:
flixbus.de
omio.de
Berlin ZOB – 45 mins
Berlin Central Station – 35 mins
●▬๑VENUE๑▬▬●●▬▬๑VENUE๑▬●
Tegeler Seeterrassen
Wilkestraße 1, 13507 Berlin
https://goo.gl/maps/FKoJSWAuezjJkviu8