Linz Crystal Kiz Festival
juillet 13 @ 8h00

-

juillet 16 @ 17h00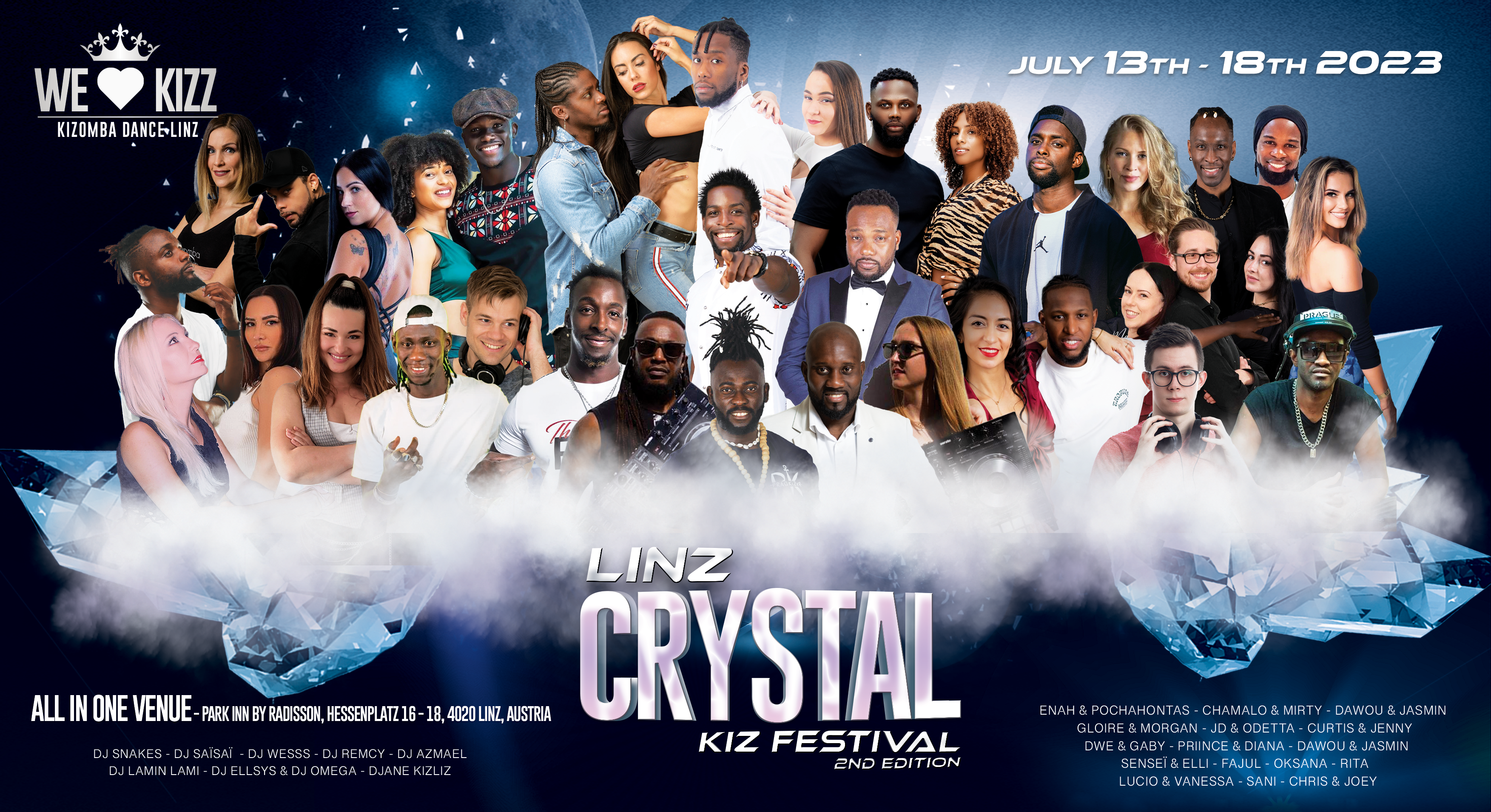 LINZ CRYSTAL KIZ FESTIVAL We let you shine again!!
Welcome to the 2nd Edition !! 13. – 18. July 2023 !!
ALL-IN-ONE VENUE
This year our festival will take place in the heart of Linz/AUSTRIA
Main Hotel
Park Inn by Radisson Hotel, Hessenplatz 16 – 18, 4020 Linz, Austria
DANCE – EAT – SLEEP – REPEAT!
Ticketing: Soon possible
We have an amazing LINE-UP! Join our festival and learn from the best.
TEACHERS LINE-UP:
ENAH & POCHAHONTAS (PARIS)
CHAMALO & MIRTY (HOLLAND)
CURTIS & JENNY (PARIS)
GLOIRE & MORGANE
DWE & GABY (HOLLAND)
DAWOU & JASMIN (PARIS)
PRIINCE & DIANA (PARIS)
JD & ODETTA (PARIS/LONDON)
SENSEI & ELLI (PARIS/STOCKHOLM)
LUCIO & VANESSA (AUSTRIA)
RITA (HUNGARY)
FAJUL (GERMANY)
OKSANA (GERMANY)
SANY (PRAG)
JOY & CHRIS (AUSTRIA)
DJ's- LINE-UP :
DJ SNAKES (PARIS)
DJ SAI SAI (PARIS)
DJ WESSS (PARIS)
DJ REMCY (GERMANY)
DJ OMEGA & DJ ELSSYS (GERMANY)
DJ LAMIN LAMI (PRAG)
DJ AZMAEL (AUSTRIA)
DJANE KIZLIZ (AUSTRIA)
LIVE-PERFORMER:
MESARO
28 quality workshops, more music, and better energy!
Main Hotel
Park Inn by Radisson Hotel, Hessenplatz 16 – 18, 4020 Linz
BOOK YOUR ROOM HERE
https://www.radissonhotels.com/de-de
Booking code: Kizomba
Booking until 13.6.2023 as there is only a limit number of rooms available for festival participants at the special rate
═════════ PROGRAMME ═════════
PRE-BOAT-PARTY (not included in the Full pass)
THURSDAY: Welcome Drink + 2 Workshops + Boat-party with cruise along the city
FESTIVAL (included in the Full pass)
FRIDAY: Workshops + social dance + PARTY
SATURDAY: Workshops + social dance + GALA NIGHT SATURDAY
SUNDAY: Workshops + social dance + AFTERPARTY –
AFTERPARTY (not included in the Full pass)
MONDAY: Social dance + CLOSING-PARTY
LOCATION
Park Inn Hotel, Hessenplatz 16 – 18, 4020 Linz
PARTY – DRESSCODE:
Thursday: Piracy on the Boat
Friday: Beach Party Outfit
Saturday: Blue Crystal GALA NIGHT
Sunday: White PARTY
Monday: Flower Party
OFFICIAL PHOTOGRAPHER:
WILSON EBOT
HIGHLIGHTS :
28 Workshops with international instructors.
DJ's playing your favourite music
AIR CONDITIONING
UrbanKiz/Tarraxa/Ghetto Zouk/Kompa/Afrohouse
100% Kizomba/Semba/Kuduro
3 afternoons of socials on the terrace
5 Dress-code nights
1. No refunds are possible.
2. You may use your ticket in 2024 it is automatically valid, you do not need to do anything for now just come and enjoy Linz Crystal Kiz Festival
3. You may sell your ticket the name change is possible and costs 10 Euro.
Send us an email: Maria.Paulmair@liwest.at
Subject: Name change
State the name of the original (your) ticket and the person who you sold it to.
You can change the name on the ticket until 6.7.2023