Open Summer Festival
mai 22, 2024 @ 8h00

-

mai 27, 2024 @ 17h00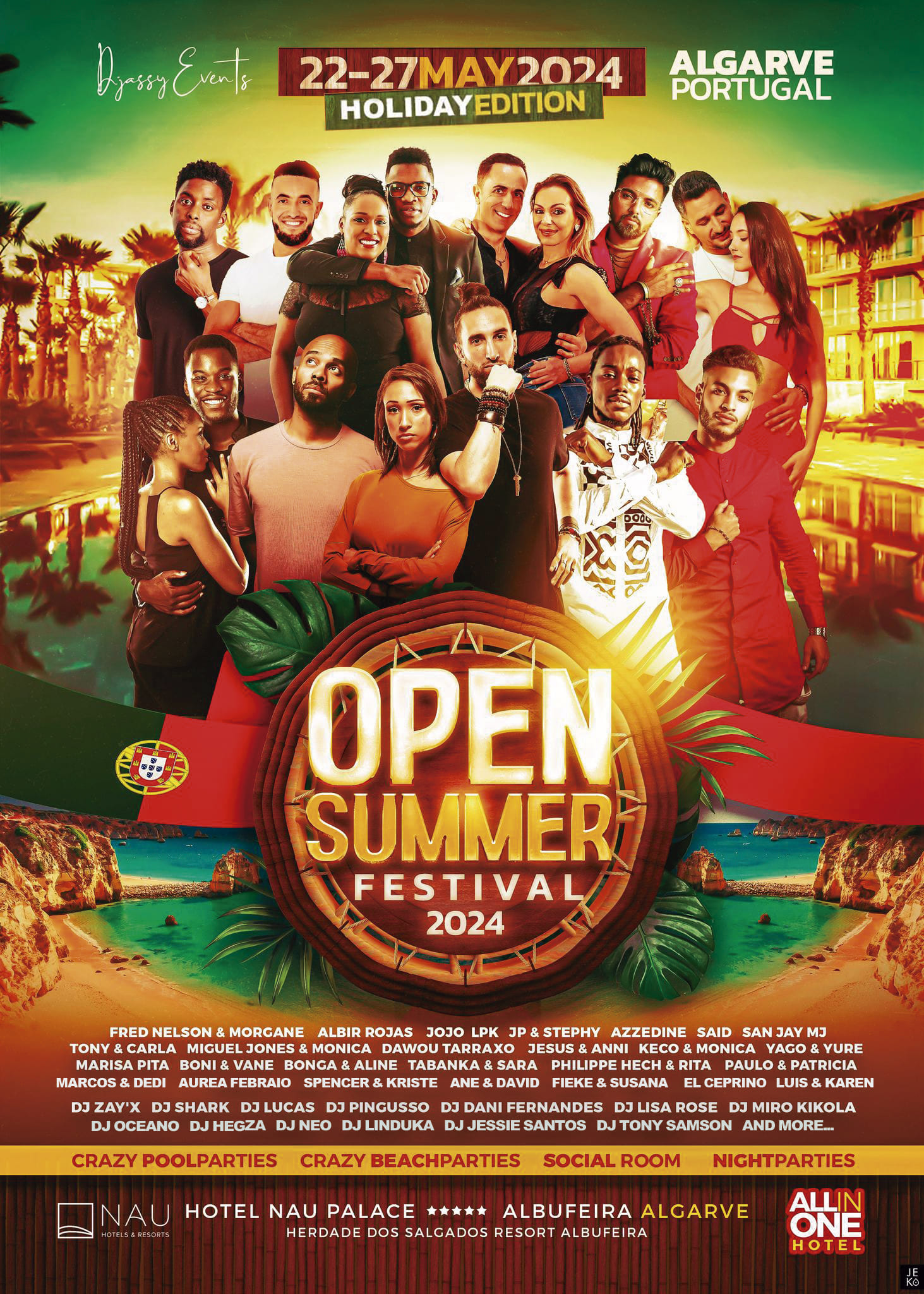 𝙁𝙧𝙤𝙢 𝘼𝙡𝙜𝙖𝙧𝙫𝙚 𝙬𝙞𝙩𝙝 𝙡𝙤𝙫𝙚
Your summer has Portuguese name.
From the so-called Portuguese paradise, a small Caribbean in Europe, surrounded by places full of charm; we present the KIZOMBA OPEN SUMMER FESTIVAL 2024 with the best national and international teachers and DJs, and also recognized teams of taxi dancers from different countries.
𝘼𝙇𝙇 𝙄𝙉 𝙊𝙉𝙀
𝟑 𝑺𝑶𝑪𝑰𝑨𝑳 𝑹𝑶𝑶𝑴:
LISBOA 𝑅𝑂𝑂𝑀 – 𝑈𝑟𝑏𝑎𝑛 𝐾𝑖𝑧𝑧, 𝑑𝑜𝑢𝑐𝑒𝑢𝑟, 𝑇𝑎𝑟𝑟𝑎𝑥𝑜, 𝑇𝑎𝑟𝑟𝑎𝑥𝑖𝑛ℎ𝑎 𝐸𝑡𝑐
PORTO 𝑅𝑂𝑂𝑀 – 𝐾𝑖𝑧𝑜𝑚𝑏𝑎, 𝑆𝑒𝑚𝑏𝑎, 𝑘𝑜𝑚𝑝𝑎, 𝐴𝑓𝑟𝑜 ℎ𝑜𝑢𝑠𝑒 𝑒𝑡𝑐
FARO 𝑅𝑂𝑂𝑀 – 𝐵𝑎𝑐ℎ𝑎𝑡𝑎 & 𝑆𝑎𝑙𝑠𝑎.
The dates are the 22th to the 27 of May, 2024 in the 5 Star Hotel "NAU PALACE" in Algarve (Portugal), one of the best hotels in the Iberian Peninsula, with more than 3,000 meters of rooms, with an auditorium of more than 1,650 seats.
 INSTRUCTORS
 F. NELSON & MORGANE – 
 (Influence sensual kizomba)
 ALBIR ROJAS – 
 (Kizomba fusion)
 JOJO – 
 (Urban Kiz)
 JP & STEPHY– 
 (Urban Kiz)
 AZZEDINE– 
 (Urban Kiz)
 SAID – 
 (Urban Kiz/Tarraxo)
 SAN JAY MJ – 
 (Tarraxo/Urban Kiz)
 TONY & CARLA – 
 /
 (Kizomba/Semba/Afro house)
 MIGUEL J. & MONICA- 
 (Urban Kiz)
 DAWOU TARRAXO – 
 (Tarraxo)
 JESÚS & ANNI – 
 (Urban Kiz)
 KECO & MONICA – 
 (Kizomba fusion)
 YAGO & YURE – 
 (Kizomba fusion)
 AUREA FEBRAIO – 
 (Kizomba)
 TABANKA & SARA – 
/
 (Kizomba/Semba/Afro house)
 BONI & VANE – 
/
 (Kizomba Fusion)
 MARISA PITA – 
 (Kizomba)
 LUIS & KAREN – 
 (Urban Kiz)
 PHILIPPE HECHT & RITA – 
 (Urban Kiz)
 BONGA & ALINE – 
/
 (Kizomba/Semba)
 SPENCER & KRISTE – 
 (urban kiz)
 ANE & DAVID – 
 (Urban Kiz)
 FIEKE & SUSANA – 
 (Urban kiz fusión)
 PAULO & PATRICIA – 
 (Bachata)
 MARCOS & DEDI – 
 (Bachata)
 DJ'S
 DJ ZAY'X – 
 DJ SHARK – 
 DJ LUCAS – 
 DJ PINGUSSO – 
 DJ LENHY – 
 DJ DANI FERNANDES–
 DJ LISA ROSE –
 DJ MIRO KIKOLA– 
 DJ OCEANO – 
 DJ HEGZA – 
 DJ NEO – 
 DJ LINDUKA – 
 DJ JESSIE SANTOS. 
 DJ TONY SAMSON- 
More artists to be confirmed…
 BUY YOUR FULL PASS AND MAIN HOTEL ROOM:
When you complete the purchase, you will receive your digital FULL PASS and your reservation code that you will need to print and present at the doors during the event.
The FULL PASS is PERSONAL and NON TRANSFERABLE
The organization is not responsible for any problems with identification during registration.
NAME CHANGE:
We don't allow refunds for FULL PASS, PACKS or HOTEL ROOMS, but if you want to change the name, (5€ fee for name change). You can complete the name change at 
www.lasalsadelbaile.com
 through your profile.
Name changes must be completed prior to May 19, 2024, there will be no exceptions.
The FULL PASS KIZOMBA OPEN SUMMER drawing winners cannot change the name, as they are personal and non transferable. However, you can change the name by paying 45€ and sending an email to kizombaopensummer@gmail.com
***********************************************************
HOTEL NAU SALGADOS PALACE 
***********************************************************
The majestic feel of a palace, a luxury 5 star experience, one of the most central and largest congresses in the Iberian Peninsula, a tropical experience, the magical air of the sea, a natural oasis, holistic treatment center, a peaceful Spa like no other in Algarve. All you could ever need is in the Salgados Palace. Impressive, luxury, quality, exuberance, magic, purity, knowledge, peace. All come together in harmony in the hotel NAU next to the Salgados Beach…
5 Star Hotel in Algarve (Portugal)
23 available rooms
1 auditorium
228 rooms
FREE WIFI
 3 bars
2 restaurants
4 pools
Gym
Spa
FREE PARKING
800 meters of Salgados Beach
Faro Airport: 49 km away
Interesting places to visit: Salgados Lake (a natural reserve), Salgados Beach (800m), West Gale Beach (Albufeira), Shopping (6 km), Aquarium (7km), Albufeira (5km)
 ADRESS:
Herdade dos Salgados
8200-424 Guia, Albufeira
Algarve, Portugal
 +351 213 007 009