Global Tarraxo Festival Montreal 2nd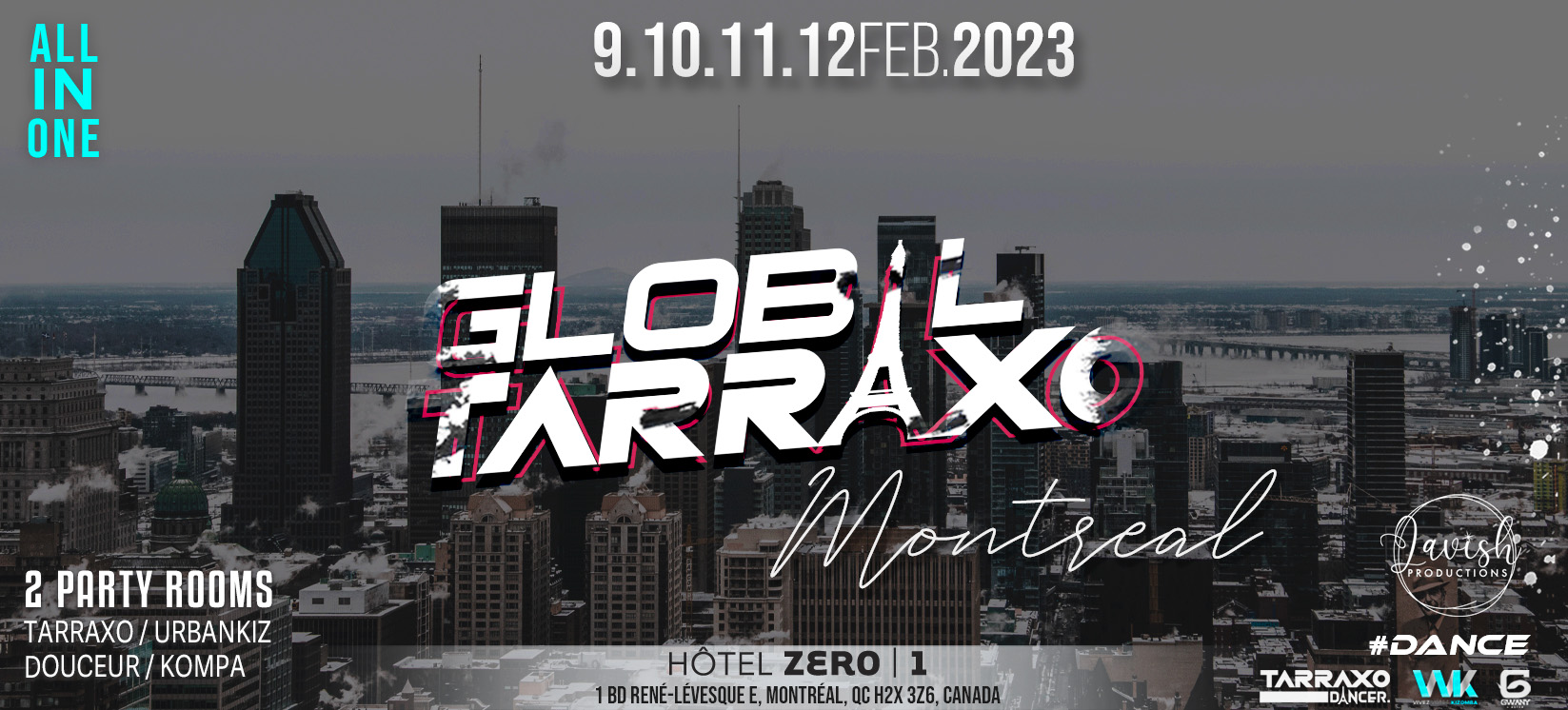 Global Tarraxo and Lavish Productions are more than happy to announce the 2nd edition of Global Tarraxo Festival
 When??
February 9-10-11-12, 2023
 Where?
In the beautiful city center of Montreal!! (Also known as the Capital of Tarraxo!!)
Hotel ZERO1 : 
https://reservations.travelclick.com/77400?groupID=3736946
YES! We are adopting a all-in-one formula for your comfort!!!!
*PLEASE USE THIS LINK TO BOOK YOUR ROOM AT OUR PREFERENTIAL RATE*
 Music to expect?
There will be Urban Kiz, Douceur, Konpa, etc…. and of course a LOT of Tarraxo!!
1st room: Tarraxo / UrbanKiz
2nd room: Docueur / Konpa
 Prepare yourself for the strongest party setup E-VER!!
First edition was FIREEEEEE! You don't want to miss out on this crazy 2nd edition !!
 Tickets are going FAST!!! Get yours now! 
 What are we offering you?
* Confirmed artist *
Tarah
Shafeeha
Shika
Samy
Gwany
Dawou
Jack Sarah
T Peak
* Confirmed DJs*
Dj Willy G
Dj Ichigo
Dj Sink
Dj Fofo Jah
Dj Blvck Skyle
Dj Casanova
Dj T Peak
* Photographer/videast*
TBC
 More than 50 guest dancers from Europe, USA and Asia!!
 Social room during the day and 2 ROOMS for the night parties!!
 How much will it cost?
* FULL PASS PRICES OVER TIME (€ prices are for illustrative purposes only – they will vary with the market value)*
140$ / €100 ***CURRENT PRICE***
175$ / €125
190$ / €136
205$ / €146
220$ / €157
* PARTY PRICES (€ prices are for illustrative purposes only – they will vary with the market value)*
Thursday pre-party (not included in full pass): 25$ / €18
Friday: 50$ / €36
Saturday: 50$ / €36
Sunday: 30$ / €21