VIVA EASTER SPLASH EDITION BRUSSELS
avril 7 @ 8h00

-

avril 10 @ 17h00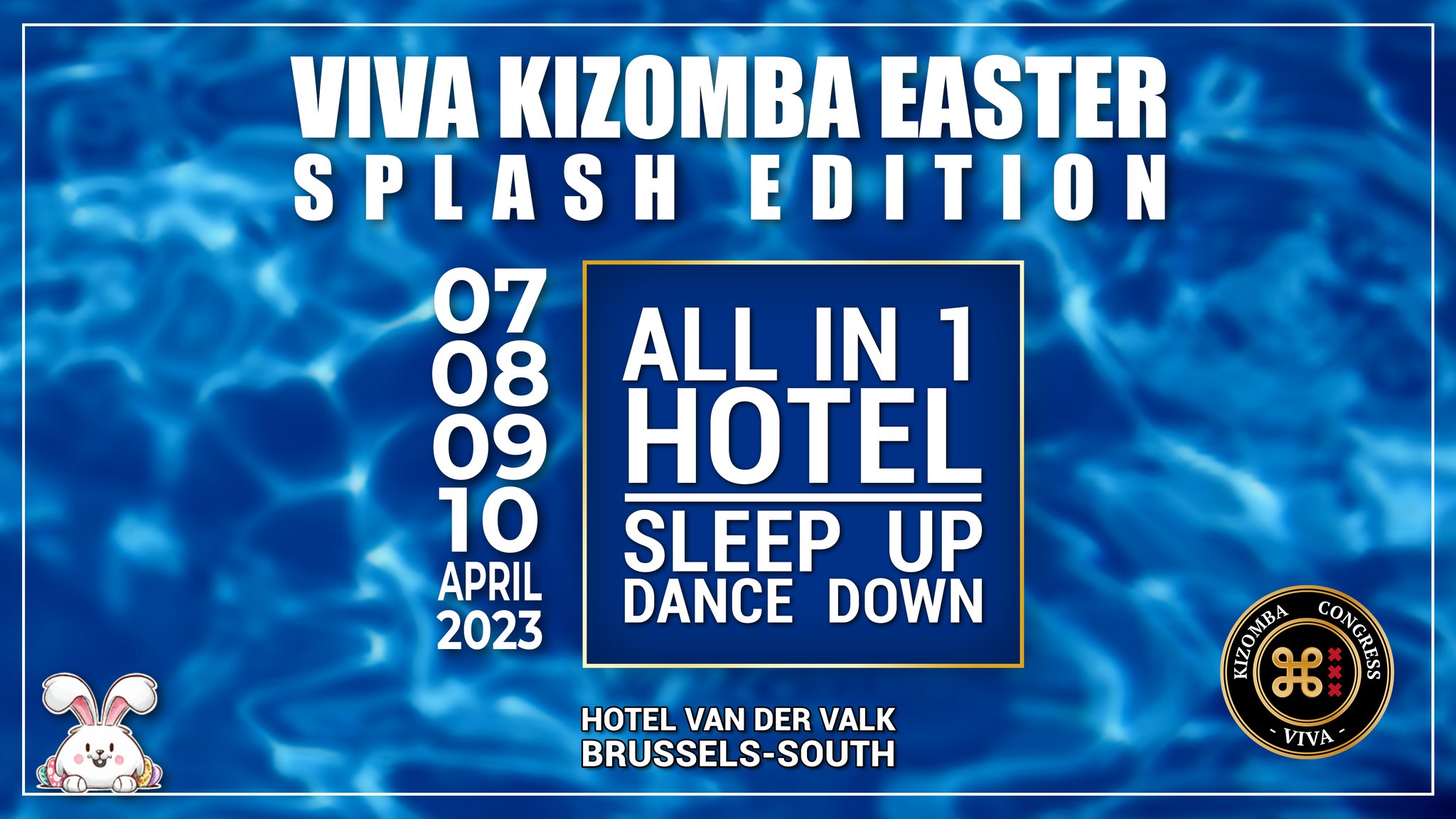 7, 8, 9, 10 APRIL 2023
* ALL EVENTS IN 1 HOTEL IN BRUSSELS-SOUTH*
Your kizomba EASTER SPLASH in Brussels South
Viva Easter Brussels (edition 3) will be held at Van der Valk Hotel Brussels South (Nivelles-Sud).
The venue is 25 minutes from Brussels International airport, 20 minutes from Brussels South airport (Charleroi) and only 20 minutes from the centre of Brussels. Do not worry, we have airport shuttle service. Hotel rooms, practices till 6am, after till 9am, socials and higher quality workshops will all be in this hotel!
Viva Brussels offers you:
● 1 large dance room (kizomba/Semba and Urban kiz)
● 10 hours of workshop/supra classes of higher quality (only 5 selected Easter artists )
● 4 Socials (3pm till 8pm: Friday, Saturday, Sunday, Monday from 12pm till 6pm)
● 3 PARTIES (11pm till 6am: Friday, Saturday, Sunday)
● 3 Afterpractices (6am till 8am: Saturday, Sunday, Monday)
YOUR EASTER COMFORT
● Special Easter Breakfast from 6am till 10.30am
● Special Easter Dinner Buffet from 19pm till 11pm
● Only one pass for all event (full pass)
● Free Wi-Fi
● 450 parking places in the hotel (free with Viva fullpass)
● Free wellness (appointment/registration)
● Free gym (appointment/registration)
More information or questions: contact@vivakizomba.com
STARTING OF THE EARLY BIRD SALES:
MONDAY 25TH OF JULY 2022: 6:00 PM
PACKAGE = ROOM + BREAKFAST + FULL PASS +SOCIALS + WORKSHOPS + PARTIES + SAUNA, SWIMMING POOL, FITNESS.
Workshop and supra classes description
IMPORTANT: who can participate in the workshop and the supra classes? Anyone with at least level 3 (all level 3) of urban kiz.
We only have 1 workshop of 2 hours on Friday evening with a surprise team (teachers) to review the steps that are important to follow the supra classes of Saturday and Sunday.
Steps of the workshop: Basic of Urban kiz; basic of kizomba; Ladies and men Saida, accelerations, reduction, contra tempo, Casamento, Ja Jăo, Estrella, Virgula, etc…
On Saturday and Sunday, we have 4 SUPRA CLASSES of 2-3 hours each (higher level). In the supra classes, we don't teach you how to do steps because we consider that when you have all level 3 of urban kiz, you are able to do all the steps of the Friday workshop. The aim of the supra thematic classes is to solve the problems below in order to integrate them into your steps. And thus help you to develop your own style of dance. Here are the themes that will be covered during the supra classes:
●How to keep the energy?
●How to keep power between partners?
●How to show your lady/man styling?
●How to have a good posture regarding on tricks?
●How to lead with your feet?
●How to keep balance between the combination of different accelerations?
●Why/when/ to accelerate?
●How to control the tension of your plexus and of your frame?
●How to control a technical lift?
●Etc.
Dj's Viva Easter Splash
● Dj Nice Life
● Dj Stefanio Lima
● Dj Charley Raymdtc
● Dj Nao
● Dj Matt
● Dj Tony Samson
● Dj Lenhy
● Dj Ichigo
● Dj Morelasoul
● Dj Saber
● More coming soon
Artists ' for SUPRA CLASSES
● Jojo & Jenny (LPK)
● Enah & Pocahontas (Kiz Fam)
● Saber & Majdouline (TheAlliance)
● Dawou Tarraxo (Tarraxo team)
● Surprise team ( 1 workshop)
official photographer: FARANTINI PHOTOGRAPHY
More information or questions: contact@vivakizomba.com